I am super excited to share a guest chef with you. Tiffany from
Tiffany's World
shared a family favorite with us. Stop in and give her a visit and thank her for this yummy recipe. I don't know about you , but I'm excited to give it a try.
This is a family favorite. This brings back memories of childhood, waiting for dad to come home so we can start dinner! It's warm and inviting, but it can be varied to fit your tastes... Literally it can be done a million different ways! (And leftovers are BEST!) Bone-in chicken, boneless, different soup, different veggies, different seasonings, different starch. And you can really make it up as you go! Just remember ratios....
Here's my
Chicken that Makes Its Own Gravy
(CMIOG, for short!)
6-8 chicken tenders, 4-6 chicken breasts, or various chicken pieces ($2)
canned or frozen pearl onions 1/2 bag frozen ($.75) or 1/2 can (1.99)
1C mushrooms (canned $.69)
1C sour cream ($.99)
1C shredded cheese ($.69)
1C rice ($.50)
paprika
1. Preheat your oven to 350 and place chicken in a baking dish... 8x8, 9x12, depends on how much chicken you need to cook!
2. Sprinkle chicken with salt and pepper and bake up to 30 minutes, until the chicken is ALMOST done.... But not quite.
3. Remove from oven, sprinkle canned pearl onions, drained, and sliced mushrooms over the chicken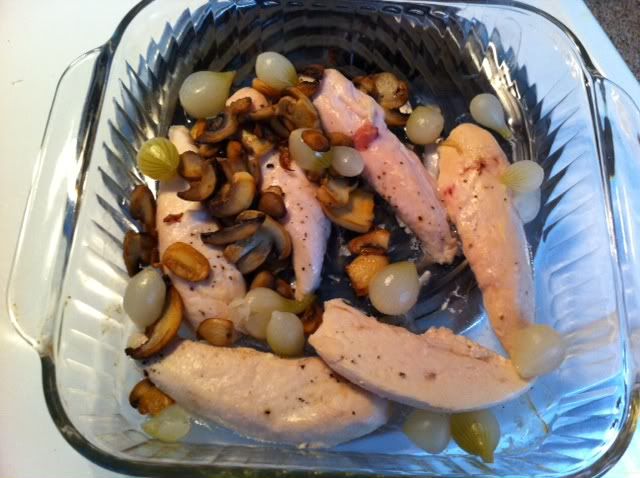 4. In a bowl, mix 1 can cream of mushroom soup and 1C fat free sour cream. If you don't like sour cream, try evaporated milk. Stir in 1C shredded cheddar cheese and spread this concoction over the chicken.
5. Sprinkle with paprika and bake for 30-45 minutes, until the cheese looks melted in the sauce.
6. Prepare rice while the chicken cooks. If you prefer, try mashed potatoes, noodles, or even broccoli.
7. Serve.... Scoop the rice, etc on the plate and spoon the chicken with all the sauce goodness! And try not to lick the plate clean!!!
I served mine over rice with roasted broccoli and Stouffer's spinach souffle!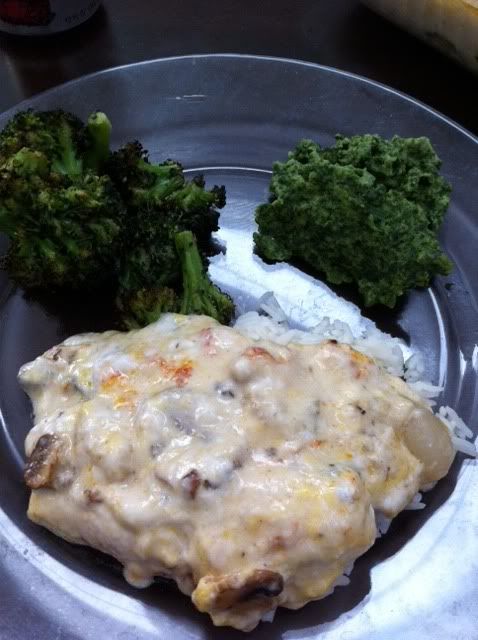 http://crazydaisy-tifscorner.blogspot.com/
OH my yumminess is what I say. Thank you for sharing this wonderful recipe with us and being a GUEST CHEF. This will be added to my August menu for sure!
If you would like to be a guest chef at Whitehead's Monthly Menu message me or leave me a comment with your idea. We'd love to have you!
Thank you Tiffany for sharing your family favorite !